The EU-China relationship is witnessing high degrees of complexity in a world that is increasingly arriving in an era of strategic competition among the great actors of the international system. The SARS-CoV-2/COVID19 pandemic has catalyzed an important moment of introspection and a rethinking of priorities, triggering a review of international politics. This has impacted on the EU-China strategic relationship as well.
The bilateral agenda consists of a wide array of subjects, ranging from political, security, development, climate action and certainly, the one I will focus on today, trade and investment relations. Given the large number of areas and diverse interests, the EU-China relationship is not a straightforward endeavor; it is a multifaceted relationship. I have earlier saluted the EEAS's and the Commission's strategic communication whereby China has been reserved the well-known four categories of engagement; cooperation partners, negotiation partners, competitors and systemic rivals.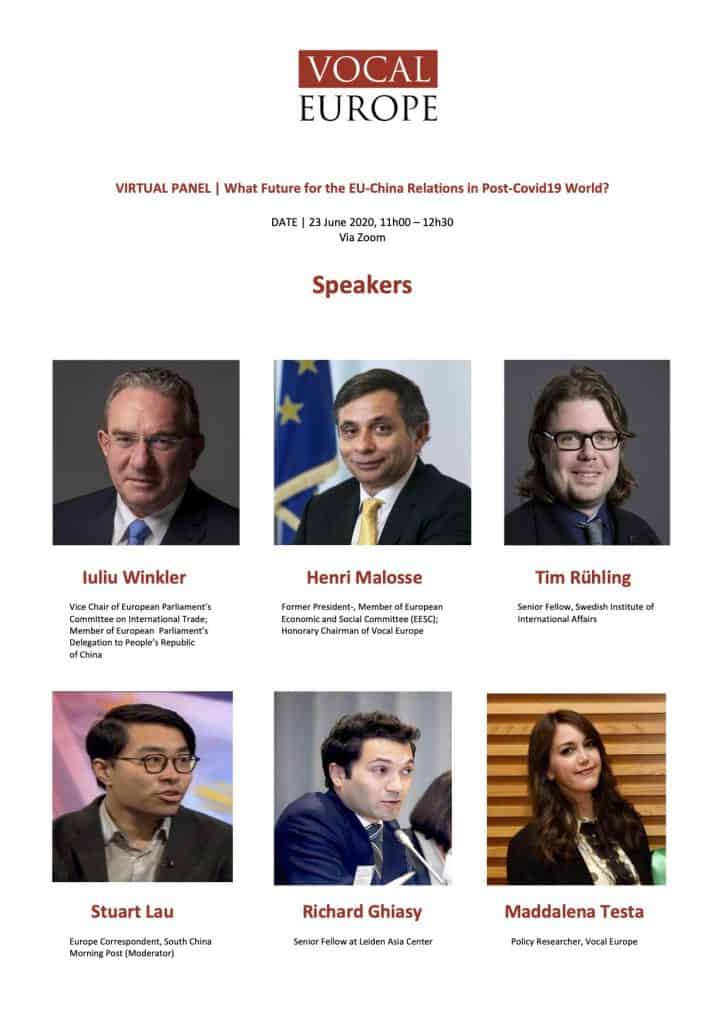 The COVID19 pandemic and the related crises have not lessened the EU's difficulties in defining its China policy; on the contrary, they brought more complexities in an already difficult exercise. Based on the 4 categories, our bilateral posturing needs to be a dynamic and robust one, whereby we engage simultaneously in the different areas of cooperation, negotiation, competition and rivalry. These categories are not mutually exclusive, and the EU machinery needs to adapt to a complex international environment where there is certainly more grey rather than black or white, with more unknown unknowns than ever before.
In this context of international volatility and strategic competition, I also want to briefly mention the transatlantic relationship, which remains the natural strategic relationship for the EU. EU-China ties are of a vital importance, but these cannot be manifested in the detriment of the EU-U.S. relationship. On the same backdrop, I've often heard the U.S. or China, respectively, be presented as a binary choice for the EU – this is a false dichotomy. Our relations need to unfold simultaneously, as we engage with both of these important international actors
As mentioned before, one key aspect of the complex Sino-European ties is the trade and investment relationship. I reiterate here that in 2019 the EU and China exchanges in goods were worth an impressive 1.5 billion Euros a day. A question I have raised before remains pertinent: can 2020 still be the year of China for the EU?
In 2019, it indeed looked like 2020 will be the year of China, with high expectations in a busy bilateral agenda, with a particular focus on trade and investment. At least two EU-China Summits were supposed to take place (spring & autumn), with the political intention to finalize the investment negotiations of the Comprehensive Agreement on Investment (CAI). The recent Summit of 22 June brought more symbolism rather than concrete steps forward. The President of the European Commission, Ursula von der Leyen rightly stated that the summit was only a starting point for progress; the same perspective is presented by the President of the European Union Chamber of Commerce in China (EUCCC), Jörg Wuttke, who is calling the year 2020 as a "year of preparation" in EU-China relations. While welcoming the Chinese participation at the highest level, I clearly think that the most important deliverable for the EU-China relationship in 2020 are the CAI negotiations; still, substance needs to prevail over speed. The International Trade committee will not support an agreement without strong provisions ensuring level playing field and fair competition, reciprocity and solid clauses on sustainability. We do have an important agreement on Geographical Indications (GIs) concluded in November 2019, which protects 100 European products and 100 Chinese products on the respective markets. The effective implementation of the agreement will be a good exercise to observe the level of ambition in putting a deal into practice. It acts like an anchor in confidence building and gives a chance for cooperation to show its benefits. Nonetheless, we still need much more ambition in tackling market distorting practices such as state-subsidies, a relevant SOE activity in public procurement, discriminatory behavior in market access, and illicit practices such as forced technology transfers and overall insufficient Intellectual Property Rights (IPR) protection. We are eagerly awaiting for substantial progress in all these areas.
The COVID pandemic has signaled some structural shortcomings of the EU in relation to its economic dependencies in strategic sectors and a lack of resilience in its global supply chains, together with important vulnerabilities in the SME sector. The Trade Policy Review is a good exercise that currently unfolds, with the key priority of enhancing the EU's Open Strategic Autonomy in trade. This implies that the EU is open for business, and the EU market will remain a competitive space, yet with robust and solid defense mechanisms, which will safeguard fair competition in the EU. A revamped TDI system is needed, together with an instrument for tackling state subsidies, and proper mechanisms for screening Foreign Direct Investment, which can be used as a geo-economic tool in international strategic competition. Alongside this, as a staunch supporter of the rules-based multilateral trading system, the EU needs to spearhead efforts to reform international institutions such as the WTO, and China can be a partner in this
From this brief presentation, one can see that the challenges are manifold and the tasks ahead are anything but easy. The great dilemmas of the EU-China relationship already existed before the COVID dynamics stepped in, yet our efforts need even more ambition now in order to reach their desired objectives. With a solid political leadership in capitals and in Brussels, and a strong will to engage, I am sure we will overcome in the end. However difficult, EU policy on China needs to be simultaneously done in all four areas of engagement. From a trade perspective, we need to do our utmost to protect the European market without turning to protectionist tendencies, standing up for open, free and fair trade based on the level playing field and reciprocity. We live today in an increasingly  complex and volatile world. I believe that our interdependent relationship with China must become more robust and mature, based on transparency, accountability and a responsible behavior, particularly on global issues.
This is the edited contribution of MEP Iuliu Winkler, Vice-Chair of the International Trade Committee in the European Parliament, delivered during a Vocal Europe webinar on the Future of EU-China relations in a Post-COVID19 World, on 23 June 2020.