Entrepreneurs need freedom, especially the small and middle ones. They need to be supported through a reduction of bureaucracy, the cutting of red tape and an elimination of unnecessary administrative burdens; these were the main conclusions of talks on Tuesday with MEP Ivan Štefanec, President of SME Europe, an economic association affiliated to the European People's Party (EPP) and MEP Iuliu Winkler, First Vice President of the organization. This meeting, as well as a second one with Dr. Horst Heitz, the executive director of SME Europe, took place in Brussels in preparation for the General Assembly of the Association on 6 March and in the preamble of the European elections this spring.
In addition to reducing bureaucracy to support the SME sector, three other priorities have been identified. SME Europe will pursue these over the next years. These entail strengthening the local economy by supporting family- and small businesses, and as a novelty, SME Europe will address small entrepreneurs in agriculture, family farms and small farmers who have specific needs to be tackled.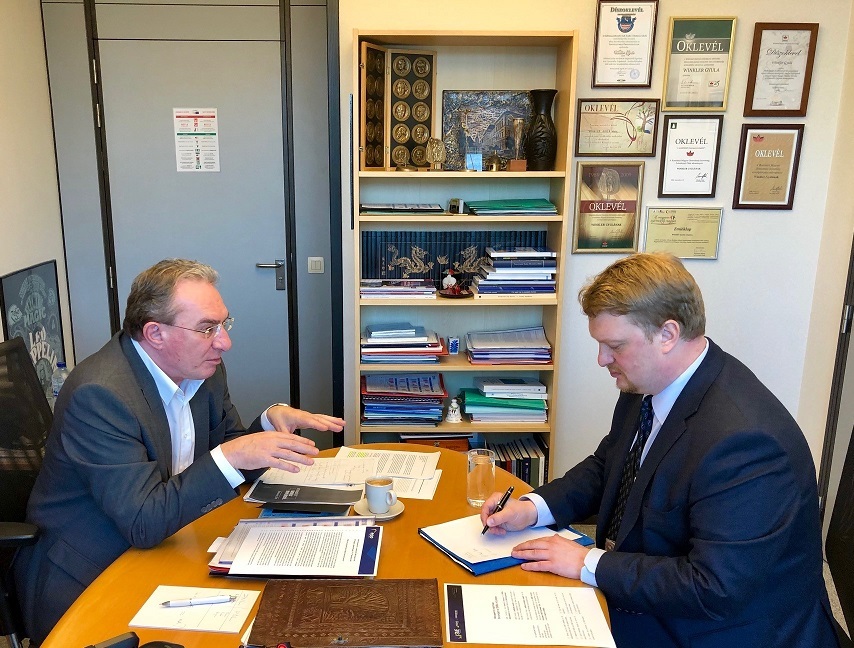 According to Winkler, SMEs are the main actors of the local economy, not multinationals. "The SME sector is the one that provides quality jobs and is closely connected to the needs of the community. A competitive local economy means welfare for every member of the community", said the First Vice President of SME Europe. He added that SME Europe will also focus on supporting young farmers, novice producers and innovative farms. Moreover, the two leaders of SME Europe concluded that a general problem in Central and Eastern Europe is the lack of highly skilled labour force, capable of operating the new equipment and technologies in agriculture.
The fourth priority concerns the adaptation of micro-enterprises to the realities of the digital age. MEP Winkler has underlined that digitization defines new business models in the midst of the fourth industrial revolution.
"In May, exactly three months from today, the elections for the European Parliament will take place. Small and medium-sized entrepreneurs are an absolute priority for the EPP and this is manifested through concrete programs and measures initiated at European level. (…) The entrepreneurial spirit among young people needs to be stimulated. We need new generations of entrepreneurs. Therefore, in the next period, we must address entrepreneurship and the entrepreneurs. Without them we cannot speak of a true middle class", emphasized Iuliu Winkler.